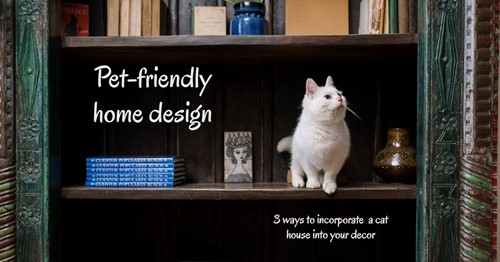 Cats love having places they can call their own. However, sometimes their space can be a little invasive or clash with your living space's decor, which can make a pet's safe space a bit of a hindrance for you and others who may live in your home. And while there are hundreds of DIY cat house designs out there, how can you be certain they'll fit with your decor?
Don't worry; there are ways to incorporate their cozy nooks into your home's grand design. Just follow these quick tips to help customize your cat's cozy new house:
Match your supplies
Regardless of the type of cat house you're building, you want to make sure you have the proper supplies. Outside of standard wood sheets, plywood board, cardboard or other cat house designs, you'll want to ensure the visible supplies can be matched to your home's decor.
For example, if you have a rustic theme, make sure your cat's house utilizes the finished wood as a feature of the design. If you have a more contemporary theme, try throwing splashes of color on the panels of the cat house to have it function as a functional accent piece that highlights your home's decor.
Play with the design
Many cat houses use a standard cat tower or cat box design. However, there are other ways to build your cat's ideal cat house without having to utilize the basic designs. If you'd prefer a larger cat house for a cat who enjoys their space or a multiple-cat household, try building standard shapes and tailoring them to match your home's decor specs.
For example, build a standard wooden cat house with four wall panels, a floor panel and a roof panel. Then build another that matches the depth of the first box, but is taller and thinner, almost like a chimney on the side of a house. Be sure to cut openings for your cat(s) that they can easily slip through.
You can either cut one large one in the shorter, wider panel, or you can cut two smaller ones: one in the wide panel and one in the slimmer, taller panel. If you'd prefer to let your cats roam, try switching out the fixed, depth panel in between the two boxes for one that slides in and out.
On the top of the cat house, try incorporating carpet or jute with a small bit of padding or a cat bed, since cats are natural climbers. Adding brackets to the taller box for a cardboard scratch pad and a jute liner with some padding behind it on the other side for a more natural scratch pad are also great additions.
Give it a purpose
While this may not fall under the design category, giving your cat house a purpose outside a cozy place to stay is crucial. If you happen to be a remote worker and your cat enjoys helping you type, try adding some other interesting features to the cat house.
Install a small, feline garden with cat-safe herbs to help maintain your cat's interest. You may also want to add a few small, automated toys and dangling features to catch their attention during your workday.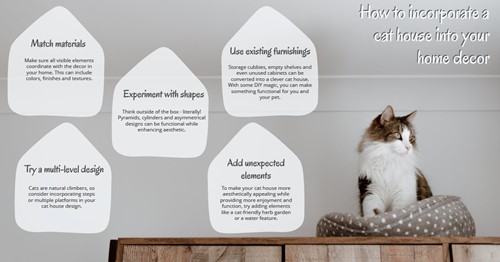 Whether you want a cardboard cat house or a chic modern cat house, following these tips will help you keep your feline friend busy while adding beautifying features to your home.